SPARCC is a bold, ambitious initiative to change the way communities shape the built environment to reduce racial disparities, build a culture of health, and prepare for a changing climate. The initiative's long-term goal is to change the way regions grow, invest, and build to benefit all residents, and do not replicate past policies practices that disproportionately disadvantaged low income people and communities of color. Through 2020, SPARCC is investing in six diverse regions to amplify locally driven efforts to ensure that new infrastructure investments lead to equitable, healthy opportunities for everyone.
Since the initiative launched in 2017, each SPARCC site has advanced a range of activities aimed at making the cities more prosperous, vibrant, and equitable. Below are a few programmatic highlights.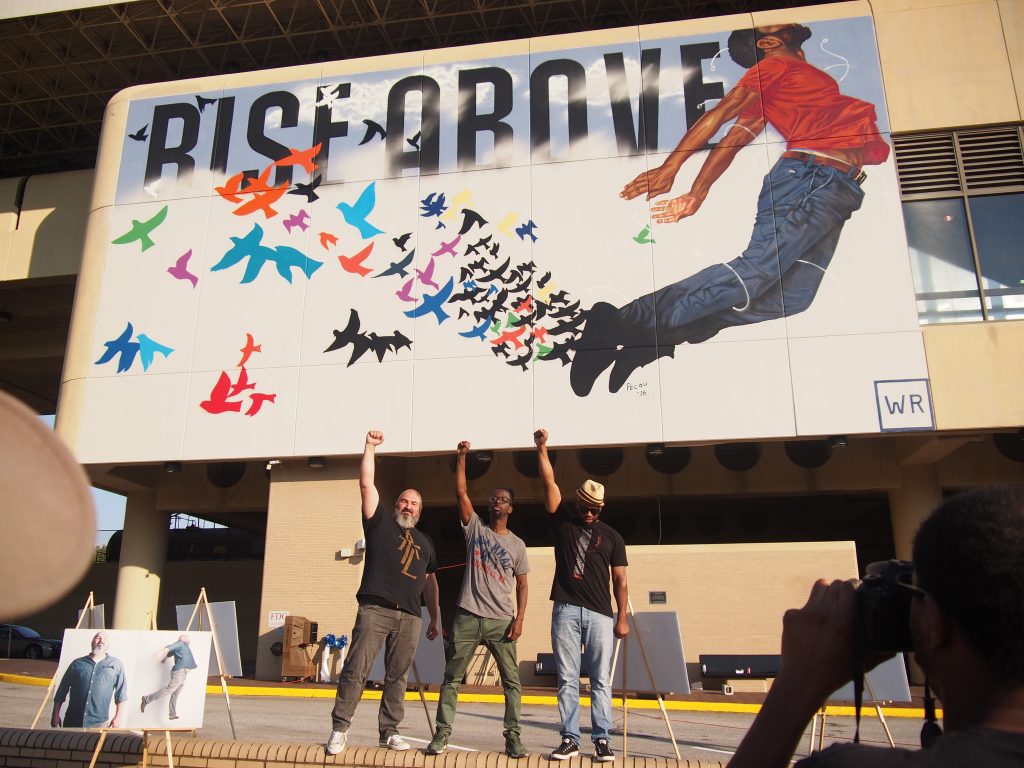 TransFormation Alliance (TFA) is a strong voice for equitable development in the greater Atlanta region.
Through an innovative grant, TFA and WonderRoot completed nearly 30 Neighborhood Flooding Surveys, and hosted multiple community events partnering with local residents in stormwater management/green infrastructure education.
In partnership with Southface, another member of the Atlanta SPARCC Collaborative Table, TFA has been utilizing the Equity Evaluator tool to score the equity value a new development brings to a neighborhood.
SPARCC, in partnership with TFA, provided a $100,000 capital grant for Soccer in the Streets to build the West End Soccer Station.
---
Elevated Chicago is transforming the conversation around transit-oriented development (TOD) in Chicago.
Elevated Chicago worked with the Chicago Mayor's Office to inform the next iteration of TOD ordinance and policy.
Elevated Chicago's conducted a Rapid Climate Vulnerability Assessment (RCVA) for each of its seven target station areas, which provides an assessment of each location's climate, health, and racial equity stressors.
Artists and residents worked together to transform train stations from "stops" to community assets; creating two murals and stormwater installations.
---
Mile High Connects (MHC) is working on combating the rapid acceleration of displacement and the rising cost of living across Denver.
---
The SPARCC LA collaborative– led by California Community Foundation (CCF) and members of the LA Transit, Housing, Resources and Investment for a Vibrant Economy (LA THRIVES), and the Alliance for Community Transit Los Angeles (ACT-LA)– is deeply engaged in equitable transportation and equitable TOD efforts in the region.
SPARCC LA partners were instrumental in passing the LA Metro Transit Oriented Communities equity policy– which requires the LA Metro to implement no net loss of affordable homes near transit.
The LA collaborative used SPARCC capital to support the development of Thai Town Marketplace, a new social enterprise and business incubator located above the Hollywood/Western Metro Redline Subway stop.
The team is studying green space development as a solution to prevent displacement, particularly looking at ways to support urban communities to advocate for green spaces that work best for them.
---
The Neighborhood Collaborative for Resilience (NCR) is advancing local efforts around mobility and access to resources, community organizing and engagement, and healthy neighborhoods.
NCR participated in a state legislative study on the development and financing of food desert relief enterprises.
NCR has prioritized the development of a grocery store in North Memphis to address the neighborhood's lack of access to healthy, fresh food and would include programming for jobs and economic development for residents of the community.
An article by the SPARCC Memphis team, in collaboration with BLDG Memphis, was included in St. Louis Federal Reserve Bank's quarterly community development journal: Connecting a Memphis Community to the Built Environment through Equity.
---
Bay Area for All (BA4A) is working to address the unprecedented housing crisis in the Bay Area through creative solutions that leverage the significant regional public investments in transportation, housing preservation, and new affordable housing development.
Leveraging a SPARCC Capital Grant with Oakland Community Land Trust (OCLT) to purchase two single family homes in Oakland as a pilot for a local community land trust model to address displacement.
Received an innovation grant (alongside Atlanta) to develop a replicable model for increasing health systems' investment to meet communities' health needs.
The BA4A preservation team– which includes five local organizations and is convened by Public Advocates and Great Communities Collaborative– developed a set of principles, strategies, and priorities to ground the preservation strategy and to inform external partners.