With SPARCC, racial equity guides new infrastructure projects in undervalued neighborhoods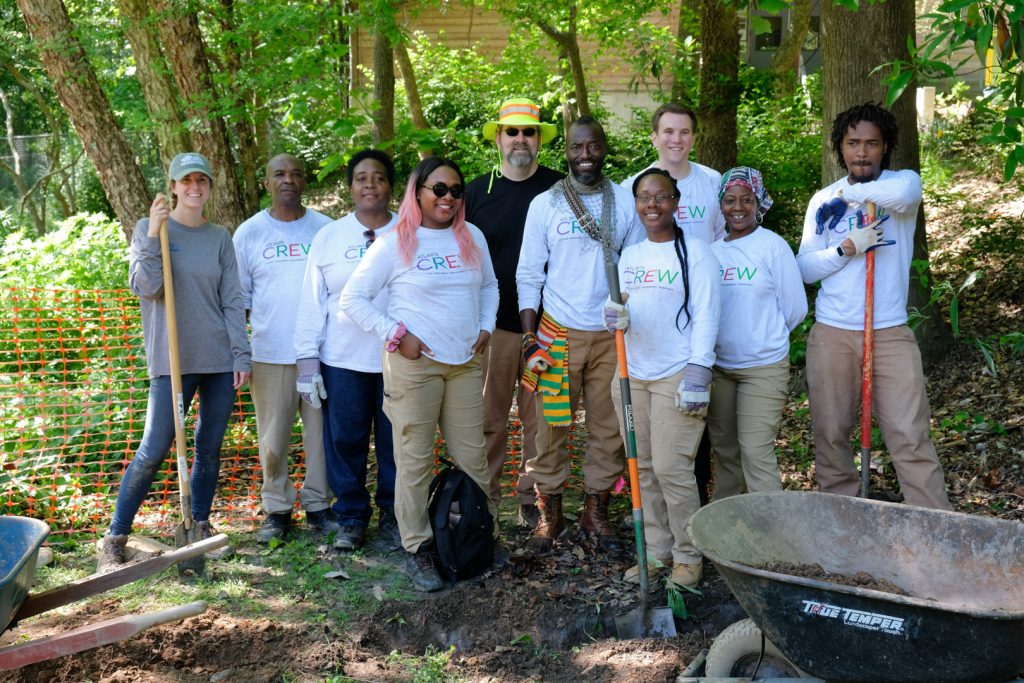 Last fall, when construction crews were excavating land beneath the elevated MARTA tracks in Atlanta's historic West End neighborhood for new soccer fields, they found what appeared to be kitchen floor tiles buried in the rubble. It's easy to imagine the family scenes in that long-ago kitchen: kids doing homework at the table, holiday dinners in the oven, teenagers recounting their day while washing dishes. But in the 1970s, that kitchen, along with many others, was razed to make room for train tracks.
When "urban renewal" blasted through Atlanta in the 1960s and 1970s, black neighborhoods were ripped in two by tracks and freeways in the guise of progress. The result was that communities were cut off from opportunity—and not by random choice. As Robert Caro wrote in his biography of urban planner Robert Moses: "The regard for power means the disregard for those without power." And lower-income black Atlantans had little power.
In the years since, investment and growth have favored the majority white neighborhoods to the north of Interstate 20, and poverty has concentrated in the predominantly black neighborhoods to the south, including the West End. Today in Atlanta, 40 percent of low- and moderate-wage workers live south of I-20 while 75 percent of low and moderate-wage jobs are north of the freeway, creating a disconnect that hurts families' opportunity and puts more polluting cars on the road. The median household income for black households is less than one-third that of whites.
Recently, though, neighborhoods have begun to reconnect in new ways. Where the kitchen floor once stood, a new soccer field under the MARTA tracks is reknitting the same infrastructure that once literally divided the neighborhood, thanks in part to a partnership between TransFormation Alliance (TFA), Soccer in the Streets, MARTA, SPARCC, and others.
Leading with Racial Equity
Historically racist policies prevented people of color and women from economic success and mobility in Atlanta despite the city's motto of being a city "too busy to hate." TFA's approach is to make sure the opportunities and amenities created by transit-oriented development are enjoyed by all, and that people don't pay for their own displacement when public infrastructure sparks development.
The neighborhoods along Lee Street in southwest Atlanta are once again feeling the pressures from large infrastructure projects, especially the Atlanta BeltLine, a 22-mile loop of trails and parks. Although new investment spurred by the BeltLine is welcome, gentrification and displacement of existing residents—often people of color—are urgent concerns.
As part of the SPARCC initiative, TFA, a coalition of more than 30 organizations, has been exploring how race and racism affect the environment, both human-built and natural. While TFA has worked in Atlanta for years, the SPARCC partnership has enabled it to add a new approach and boldness to its mission.
"SPARCC has given us permission to be more honest around race and racism. That's a game- changer. It's notable that an organization that names and leads with racial equity is thriving in the South."

-Odetta MacLeish-White, managing director of TFA.
Prioritizing Racial Equity in SPARCC Financing
The way projects are funded is key. Two early wins for TFA were the development of an equity evaluation tool designed to score development projects around transit investments, and an arts-based community engagement process.
The equity evaluation tool sorts all of MARTA's station areas into typologies that reflect core needs of nearby neighborhoods. Some areas need to preserve existing affordable housing while others need to build new affordable housing. Some areas need jobs, retail investment, or both. Customizable scoring sheets can help MARTA select development partners who can respond to community needs as a whole—not just focus on the bottom line.
Sometimes those needs involve beauty and inspiration. The En Route program, for example, was a two-year process of community engagement that resulted in murals at four southwest MARTA stations. The program conveyed residents' hopes and visions for their community to both MARTA and developers.
TFA distributed $500,000 in SPARCC capital grants between 2018 and 2019 to organizations sharing this mission. The flexibility of the SPARCC funding has been important, MacLeish-White said, because many infrastructure projects in struggling neighborhoods do not attract investors, and fast-moving markets often put nonprofit developers out of contention.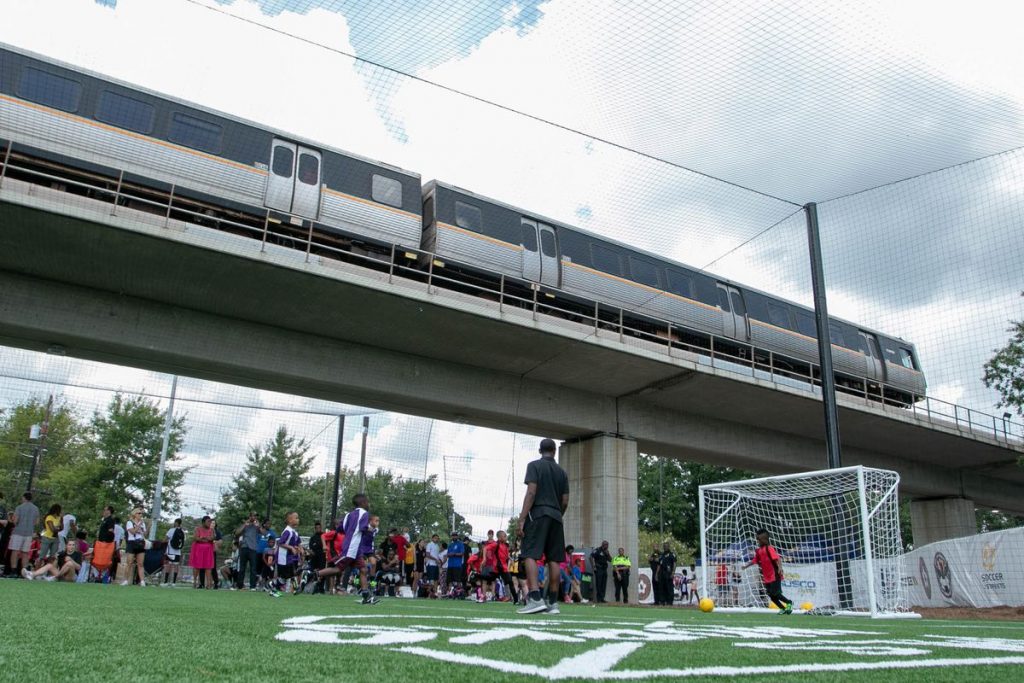 Projects That Do More
The old way of doing business created infrastructure that helped some residents but hurt others. TFA's new approach is to help complete projects that offer multiple benefits for everyone. It lifts up a "multi-solving" approach, which creates systemic solutions to protect the climate while also improving health, equity, and well-being.
TFA's $125,000 investment in two soccer projects built at MARTA station locations, for example, promotes health through exercise, enhances climate resilience through transit, and promotes social cohesion. The fields have become the proverbial "third space" where people gather, parents talk, kids play, and community is built, said MacLeish-White.
They have also helped create local jobs.
The Lee Street work in Southwest Atlanta has made it clear to TFA that well-paying jobs with room for advancement are a top priority. With that in mind and a $142,000 investment, TFA's members, Southface, West Atlanta Watershed Alliance and WonderRoot have created Atlanta CREW, a free workforce development program that trains local residents to install and maintain green infrastructure with a cultural and artistic vision.
Through a Climate and Cultural Resilience Project with Enterprise Community Partners, WonderRoot and Southface, involved long-time residents in a different way—encouraging them to reminisce about the neighborhood in a powerful storytelling project called This Belongs to Us. Low-income neighborhoods are typically the least able to rebound from flooding, rising temperatures, and other results of climate change and the WonderRoot and Southface project helps residents see the impact of climate over time.
When someone remembers running across a neighbor's yard that is now constantly flooded, it becomes a real experience, said MacLeish-White. "You only see that arc when you ask people about their lived experience. You can then ground your solutions in that lived experience."
In yet another project, TFA funds are helping to make a 100-year-old warehouse owned by the Lifecycle Building Center safe and efficient for the creation of a retail and office facility, as well as a community gathering space for community outreach, education, and training.
TFA is also using a newly developed screening tool, the Rapid Climate Vulnerability Assessment, to ensure residents in the Lee Street corridor neighborhoods have healthier housing with greater energy security, and that new trees planted in the area will withstand changing climate.
Finally, TFA is working with residents and local community organizations to ensure that affordable housing options are preserved so that legacy residents can enjoy the resurgence of their beloved neighborhoods. Toward that end, TFA provided a grant to the Atlanta Land Trust (ATL) for the purchase of two properties near the BeltLine. The ATL helps keep homes affordable for years to come.
In the end, the SPARCC approach has led to "deeper and more creative conversations," MacLeish-White said. "It's an amazing mix of sectors at the table, which shortens the distance between people and ideas."