By Marissa Ramirez (NRDC), Dr. Erica Holloman-Hill (WAWA), Mona Wang (LIIF), and Darryl Haddock (WAWA)
We thrive through our connection to land, to community, and to each other. Parks and public lands offer these important connections between people, communities, and nature, as spaces for community stability, health, and well-being – something that this pandemic has taught us is more critical than ever. Yet, not everyone in this country has the same access to these spaces, related green investments, and the positive benefits they provide. Our national parks and public lands too often carry the legacy of extraction and exclusion of Black, Indigenous and communities of color. 
Despite exclusionary policies and practices, these communities maintained access to their lands – for access to Mother Nature has never been man's to give. The bubble of whiteness and its privileges has burst, and calls for racial equity must be answered to begin to heal historic injustices and restore connections.
There is momentum for change under the new administration. The Biden plan places racial equity, climate change, and health front and center.  Choosing Deb Haaland as Secretary for the Department of Interior fortifies this commitment.  Haaland's appointment is historic. As the first Native American Cabinet secretary, she represents tribes who have not only lacked but have been systemically denied the resources, representation, and voice to longstanding environmental injustice.  She represents the promise of a new era for this country's connection with its land, one that connects with all people, especially those often excluded. In Biden's first days in office, he has signed several Executive Orders, including those that result in revoking the permit for the Keystone XL pipeline and requiring agency review of racial equity, which hopefully set the precedent for what is to come.
So what can that new era look like?  
Parks and open spaces have never existed separately from communities. The role of the Department of Interior (DOI) includes preserving our nation's cultural and natural heritage spanning both urban and rural settings.  
In the US, the legacy of harm and poor land-use decisions at the federal and state levels has several beginnings as it relates to Black, Indigenous and people of color. From the direct removal of Native Americans and Africans from their land to slavery, these decisions were later codified by legislation such as the Indian Removal Act and Black Codes (that were enacted in the South and North, following the Civil War and Emancipation). This legacy of the pursuit of ruthless economic growth continues to harm through poor land-use and management. 
If "faith without works is dead," then so is equitable policy without equitable enforcement.  We need policies (and the enforcement of such policies) that ensure that people – particularly Black, Indigenous and people of color – not only have access to public land, but are positioned to provide stewardship, cultural inclusion, and guidance for those lands ensuring they remain healthy and climate neutral. Creating sustainable, holistic communities requires parks and public lands that can be used in varied and unique ways that cater to the needs of the people they serve.  
The Parks, Open, and Urban Space Equity group (as part of the SPARCC Collaborative) came together as a collective voice to call for a more inclusive parks and open space agenda that protects the interests of diverse communities, while preventing green gentrification and displacement. Our policy and goals are part of implementing our larger SPARCC platform: Pathways to Community Prosperity  We believe in self-determination and stewardship of land while advancing deep engagement and personal agency for designing and implementing parks and green investments.  Our three core priorities include advancing: 1) community-led parks design, development, and implementation, 2) equitable parks systems (including the infrastructure to support it), and 3) green investments for resilient neighborhoods.
We are encouraged by and fully support several of the Biden Administration priorities that align with ours, including:  
Investing $1.7 trillion in climate and environmental justice and conserving 30 percent of U.S. lands, oceans and inland waters ("30×30") over the next 10 years.

Creating a Civilian Climate Corps

Advancing racial equity across the economy
To accomplish these and other goals, strong, meaningful connections must be forged with state and local communities to address and quell long-standing inequities. The following are the principles and commitments that we, as the Parks, Open, and Urban Space Equity group, believe the administration must uphold, embody, and commit to action: 
Invest equitably in local parks and our communities
The new administration must continue to build bridges across Black, Indigenous and communities of color in connection to the land to create places that are healthy, climate resilient, and put people and communities first.  One of the top priorities in advancing climate and environmental justice should be the implementation of the Land and Water Conservation Fund (LWCF).  Permanently authorized by Congress as part of a historic public lands package in 2019, the program provides funds for conservation of public lands and water. In July of 2020, the Great American Outdoors Act received bipartisan support for guaranteed funding for LWCF, thanks to the support of Rep. Haaland, Sen. Tom Udall, Sen. Michael Bennet, and others.
In addition to funding national parks and forests, LWCF provides critical state grants for parks, open space acquisition, and development in communities.  However, DOI drastically underspent LWCF as stipulated by Congress.  To fulfill this requirement and to support communities, the administration must engage local organizations and networks including those  our group represents, to ensure funds reach the right groups and to identify eligible projects and to deploy the funds.  DOI should deploy funds in ways that allow for equitable access to parks and open space as well as the contracts to design and build those parks and open spaces as anchors, not drivers of displacement or gentrification. Once established, these natural spaces should support the creation and implementation of community-led programming that reconnects us back to Mother Nature.
Often, federal investments favor organizations that have received funding in the past – limiting the reach and ultimately the impact on communities that would benefit most.  Budgetary resources toward programs like the National Park Service's Community Assistance Program should be dedicated to partnering with communities, including urban areas.  In Atlanta, the West Atlanta Watershed Alliance's (WAWA) programs, such as O-Academy (a K-8th grade culturally relevant environmental science camp) or the Great American Campout and Urban Forest Festival (an annual family event) developed out of deep trust built in the community. These and other excellent community programs would thrive with this kind of government funding.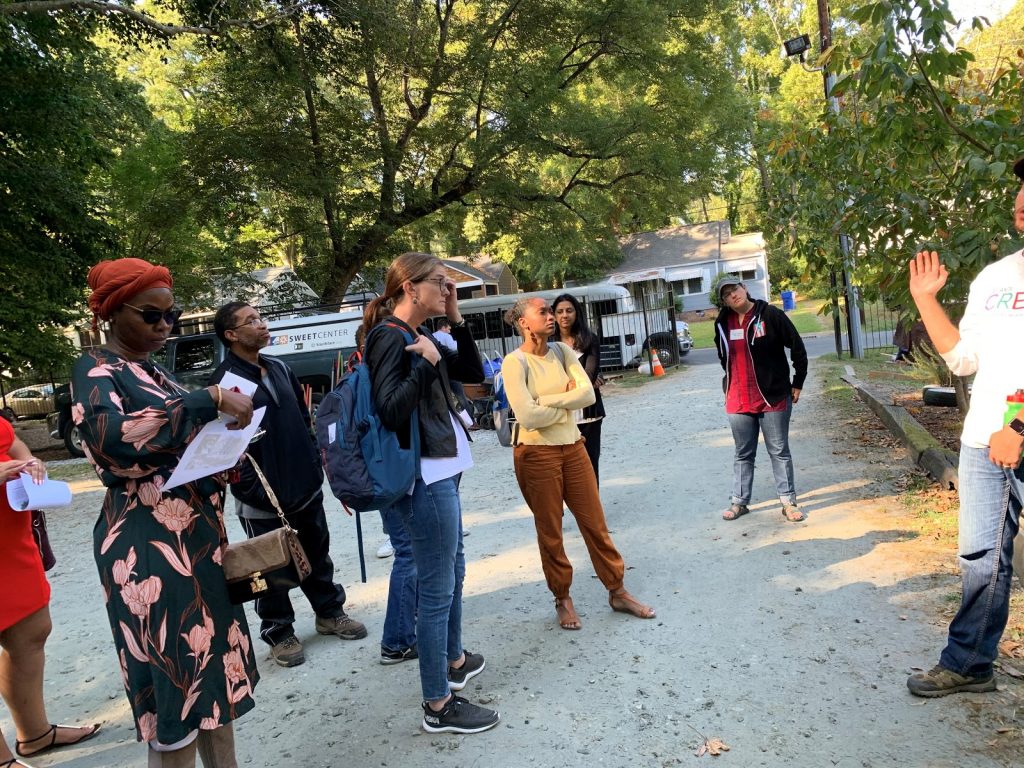 Build a climate resilient future through creating jobs that are family-sustaining 
Biden's plan includes creating a Civilian Climate Corps for "mobilizing the next generation of conservation and resilience workers." This idea could enrich the lives of many people and communities while enabling a range of climate change improvements from infrastructure improvements to ecosystem health. However, this fails to adequately hold space for the mobilization of the next generation of Black, Indigenous and people of color conservation and resilience scientists, innovators, and entrepreneurs. Young people from Black and Indigenous communities want to be included in conservation work and have much to offer in this space. We must leverage existing assets in communities, including Historically Black Colleges and Universities (HBCUs) and indigenous and tribal colleges. The program must be accessible, particularly in accommodating participants that have assumed caretaker responsibilities by offering childcare or supplemental financial support. Finally, allocating funding to ensure training in conservation provides for all related expenses to their participation ensures that youth participants in Black, Indigenous and communities of color historically excluded can be part of this effort. 
Address barriers for deliberately overlooked populations in our park systems
Addressing the behaviors that support systemic inequity in park systems is not an easy or short-term task.  The implementation and enforcement of policies that support systemic equity in park systems is also difficult but equally necessary. Ensuring community-driven parks design and implementation in addition to diversity and representation throughout the workforce will require honest and ongoing conversation.  Policies must not simply be race neutral, but must be race forward.  A few key recommendations include:
Implement participatory budgeting to ensure that community voices are represented, engaged, and influential in decisions for parks design and implementation – including hiring, procurement, and vending in historically excluded communities

Establish interagency partnerships to address climate and health equity and advance equitable access to green space and nature in underserved communities by working closely with the Environmental Protection Agency (EPA), Department of Housing and Urban Development (HUD), Department of Health and Human Services (DHHS), Department of Labor (DOL), and Department of Transportation (DOT).

Use data to measure the benefits and potential harms of programmatic investments.  Existing sources such as Data for Black Lives, United States Geological Survey (USGS), the Office of Minority Health (DHHS) can provide necessary demographic health and equity data.  In addition, expand the use of the EPA Environmental Justice Screening and Mapping Tool (EJSCREEN) to ensure most vulnerable communities are receiving benefits.

Revisit and amplify the Urban Agenda to identify further opportunities for climate resilience as 87 percent of flood impacts are in communities of color along with related green gentrification.  There is an opportunity to adapt vacant and underutilized spaces for climate and cultural projects on public lands that can leverage other federal investments for local capacity and educational opportunities in urban underserved areas.

Ensure that public spaces have

visible land acknowledgements

and written history of oppressed communities' contributions to the land.
There is Opportunity
To most, parks and public lands may seem like places for recreation and respite – but they are so much more than that.  Parks and public lands are a place for us to come together to connect with the natural world and to our community. They are a place for cultural celebration of who we are, our history, our heritage, and our cultural identities. Protecting these precious spaces and ensuring that all people have access to them is not just an investment in our environment, it is an investment in our collective health and well-being as a community.