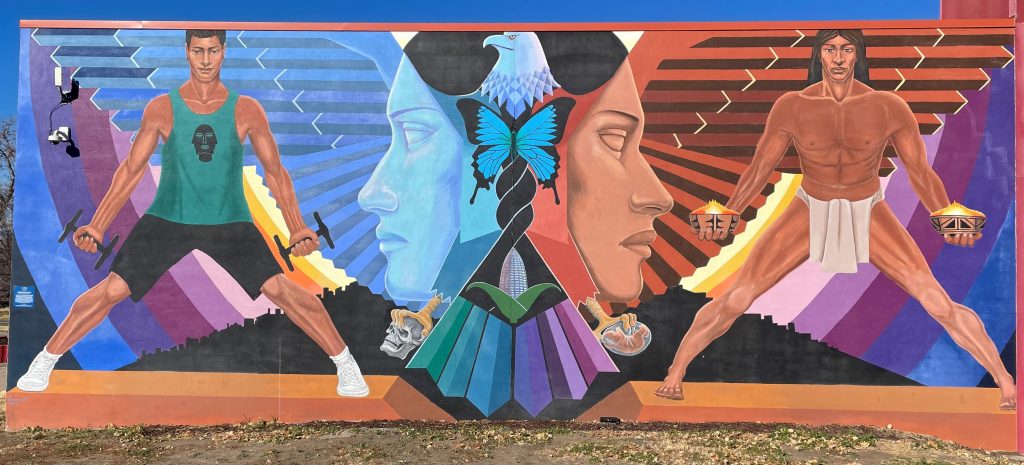 "La Alma" by Emanuel Martinez (1978). "La Alma" is one of the earliest remaining Chicano Murals. The mural commemorates the birthplace of Chicano Mural Movement in Colorado that began at La Alma Lincoln Park neighborhood by Emanuel Martinez with the support of the community. The mural represents the accomplishments of Indigenous and mestizo peoples past and present, as well as the role of the youth to continue their traditions and legacy. The Moon Goddess on the left gazes into Denver's urban landscape, while the Earth Goddess on the right gazes towards a Puebloan landscape symbolizing the balance of both.
Following the great California Gold Rush of 1848, migrants, immigrants and others who would come to be known as Fifty-Niners set their sights on the Rocky Mountains of what was the western Kansas and southwestern Nebraska territories. Once home to the Apaches, Utes, Cheyennes, Comanches, and Arapahoes Nations, and The Pike's Peak Gold Rush would help to form what is now known as Denver, Colorado.
This shining city on a mile-high plateau has become one of the most desirable places to live by the young and hip of American society. The city enjoys 300 plus days of sunshine a year which gives you ample time to get out and enjoy the largest city park system in the nation, with 14,000 acres of mountain parks and 2,500 acres of natural areas. This along with noted colleges and universities, four major professional sports teams, and the second largest performing arts center in the world may seem as if the streets were paved with gold. Yet, it would be the fight and spirit of the migrant workers of the 1960s and 70s that would truly shape Denver's legacy.
El Movimento in Denver
Following the Mexican-American war of 1848, the Treaty of Guadalupe Hidalgo promised Mexicans who chose to remain in the newly acquired U.S. territory citizenship and a right to their property, language, and culture. While some tried to assimilate into America seeking to be recognized as a class of "white", it became clear to most Mexican Americans that America would once again not keep its promise — continuing a legacy of discrimination against Black, Brown, and Indigenous people.
Out of decades of discriminatory treatment came the Chicano Movement for social and political empowerment. Sparked by three pivotal events in 1969 – the Kitayama Carnation strike, the West High School walkouts, and the Denver Chicano Youth Liberation Conference, Denver became the epicenter of this movement. The movement would call for change in multiple parts of American society including labor rights, education reform, and land reclamation. It would introduce some of the greatest civil right leaders such as César Chávez, Dolores Huerta, Reies Tijerina, and Rodolfo "Corky" Gonzales.
The Chicano Movement would spur many reforms including the creation of bilingual and bicultural programs, improved conditions for migrant workers, the hiring of Chicano teachers, and more Mexican-Americans serving as elected officials. These advances were great victories, but these and other struggles would continue for decades to come. The spirit of this movement laid the groundwork for the initiatives that Mile High Connects and SPARCC sought to implement in Denver.
Access to Opportunity Through Transportation
With so many positive things happening in Denver it's sometimes hard to see the inequities that lie just below sea level in this mile-high city. Like many American cities, they face the challenges of bridging the gap between the old and the new, ensuring equitable progress and opportunity, all while addressing the lingering injustices woven into the fabric of this country.
Drivers of inequity in Denver are both historically rooted and brand new. Like many American cities, racist and discriminatory policies and practices have either blocked or made it extremely difficult for a majority of Black, Brown, and Indigenous people to find jobs that pay a livable wage, safe and affordable housing, quality education, and access to necessary health services. SPARCC, along with partners like Mile High Connects identified a unique thread in Denver that would serve as the linchpin to begin addressing these inequalities — transportation.
It shouldn't be a surprise that for a city like Denver transportation would be key to the great divide between the haves and the have-nots. Denver is one of the few cities in America that wasn't built on a road, railroad, lake or navigable body of water. Today, it's home to Colfax Avenue, the longest continuous street in America at just over 26 miles, but Denver has a long way to go to close the loop in many of its communities of color.
Like many cities, Denver has a history of discriminatory housing policies that redlined Black communities, segregating them into inner-city neighborhoods. Over the years the rapid growth across the Metro Denver region has greatly impacted low-income communities and communities of color. Currently, less than 6 percent of Denver's regional housing is permanently affordable with many low-income families across the region struggling to pay their mortgage or rent every month. After paying for housing costs, there is little left for other essentials like food or childcare.
Neighborhoods like Five Points and Whittier are now far along in the process of gentrification and have lost much of their cultural identity as more affluent residents displace the original residents driving up property values and property tax burdens.
Latino communities on the Northside and throughout West Denver are also in a state of flux. The once-vibrant community has decreased by 40 percent in the past decade. The State of Colorado's constitutionally mandated prohibition on rental regulation of any kind has compounded these issues and sections of the region that had affordable housing have seen rents nearly double.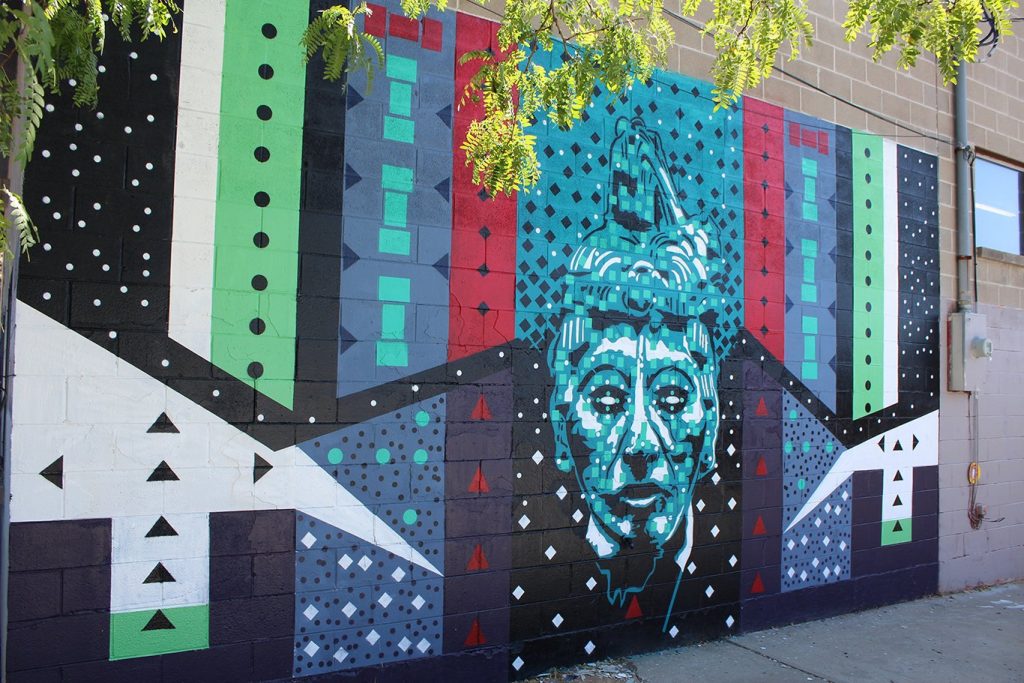 Disparities among racial and income groups can also be seen in health outcomes as carbon emissions from the highways have led to poor air quality and higher rates of asthma.
While these issues are not exclusive to Denver, so much of it is tied to the city's poor transit model. Transportation is the second largest expense for families, but few consider these costs when choosing a place to live.
Jobs and Economy:
266,000 projected jobs over the next 10 years will be middle-skilled jobs across technology, healthcare, and construction. The typical job is accessible to only about 27% of its Denver metropolitan workforce by transit in 90 minutes or less.
Education:
Less than 10 percent of the metro area's preschools are located within a mile of planned or existing RTD stations and fewer than 3 percent are within half a mile.
With only 15 percent of Denver's top-performing schools within a mile of an RTD transit station, transportation can be a barrier to low-income families choosing quality school options and for their children to participate in additional learning time, activities, and sports.
Health and Wellness:
Many basic health services are hard to access via public transportation, making it challenging for low-income families to access the preventive health care, healthy food options, and other resources they need to stay healthy.
Only 16.7% of low-income people living within a half-mile of a transit stop also live more than a half-mile from a grocery store. Limited public transit options, contributing to higher rates of obesity and other chronic diseases
Innovation Leads to Empowerment
These harsh realities impressed upon SPARCC and our partners to be intentional about how we would invest in the Denver community. Thankfully, the people of Denver had already begun to make this same commitment. Over the next decade, billions of dollars of public and private sector funding will fuel new investments in transit infrastructure in the Denver Region. In 2004, voters approved FasTracks, a $7.8 billion transit expansion to add 122 miles of railway, 18 miles of bus rapid transit, and more buses serving the regional transit district. As the region's transit system nears completion, the City of Denver has set the most aggressive climate goals in its history. Mile High Connects (MHC) and SPARCC aim to ensure that this multi-billion dollar, tax-funded public investment offers opportunity to all.
To date SPARCC has invested in a number of notable projects in the metro Denver area:
The creation of the studio, one-, or two-bedroom units in backyards or over garages provide residents with the ability to earn extra income to cover rising property taxes while providing stable, long-term housing for other families. The ADU program provides a solution to address residents' (both homeowners and renters) concerns about displacement. The program also provides an opportunity for intergenerational wealth building. The capital grant was used as a revolving fund for the development funds. The SPARCC innovation grant was used to assist with the costs to create the ADU program and was important in attracting additional capital.
BuCu West Bottling Plant – BuCu West
Grant dollars will bridge funding to support a down payment so that BuCu West can put the property under contract and prevent its sale to a buyer that does not share the community's inclusive vision for the neighborhood. The project plans include the expansion of an existing bottling business that currently employs 6 local residents and the creation of a small community center. This new location will allow the bottling business to grow by an estimated 3 or 4 times its current size. The bottling company intends to become a worker-owned cooperative. The small community center will provide space for peer-to-peer educational classes, a community art gallery, and temporary workspaces for local artists/entrepreneurs.
The SPARCC journey in Denver has been one of successes and failures, of learning and adapting. Despite the many worthwhile projects initiated over the past six years, Mile High Connects closed its doors in June or 2022. But much like the Chicano movement, the spirit of the Crusaders for Justice continues throughout the Denver community and in the work to empower the most vulnerable communities. SPARCC and Mile High Connects are proud of the work done to help Denver innovate and grow, but for it to continue to thrive, Denver must mine its greatest resource — people. 'Chicano' or 'Xicano' was once considered a racial slur. The Chicano movement flipped the meaning of that word into a term of pride that embraced their full heritage of Indigenous, African, Spanish and European roots. Denver must do the same and embrace the fullness and richness of its varied and diverse communities.