By Mikyla Reta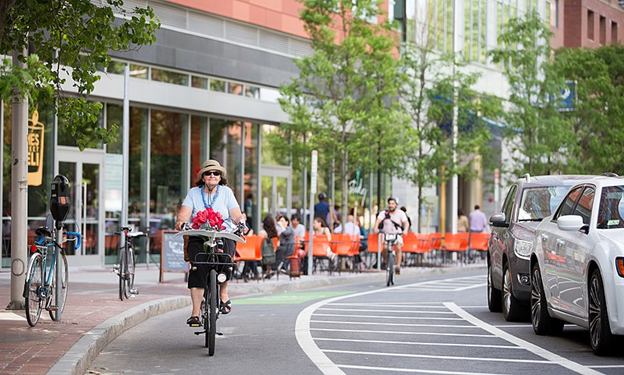 The Strong, Prosperous, and Resilient Communities Challenge (SPARCC) is a national initiative created to address the structural barriers facing low-income communities and communities of color that continue to feel the effects of historical redlining, environmental and climate injustice, lack of equitable transportation infrastructure and persistent discrimination. A key focus for SPARCC partners, who include over 100 local community-based organizations, community land trusts, public agencies, community foundations and national partners is to advance effective strategies for community development that integrate racial equity, climate resilience and health equity outcomes for current and future residents and that build community-wealth and ownership as outlined in our Pathways to Community Prosperity.
>> Read SPARCC's Comment Letter Here.
SPARCC was able to provide input to the Environmental Protection Agency (EPA) on how to implement the new Greenhouse Gas Reduction Fund (GHGRF), a $27 billion program created by the Inflation Reduction Act (IRA) to fund projects that reduce greenhouse gas emissions and air pollution. This program is a huge opportunity to bring tangible, lasting benefits to communities who need it most – but that depends on how EPA chooses to implement the Fund. SPARCC has a unique combination of policy and capital work in the climate, clean energy, park equity, commercial and affordable housing space that positions us to provide meaningful feedback to EPA on how implementation should proceed.
EPA needs a clear, consistent definition of "low-income" and "disadvantaged" communities
There is a swath of existing tools and definitions, including the Climate and Economic Justice Screening Tool (CEJST) and the White House's Justice40 guidance definition, however these do not capture all disadvantaged communities and as a result should not be the sole resources EPA uses to determine eligibility. They should be modified to include other key climate, housing, energy, health, and socioeconomic factors/indicators.
EPA must make intentional efforts to reach groups that are both historically underrepresented and organizations with stated commitments to racial equity and long-term affordability in their missions
The administrative burden of accessing funds can sometimes outweigh the benefits or perceived benefits due to minimal staffing and staff time in these organizations. EPA and recipients making subgrants must make crucial changes to application and reporting requirements to ease the burden of applying and managing federal grants; perform meaningful technical assistance (such as application support) and outreach; offer resources for capacity building; and provide project pre-development aid.
EPA should adopt best practices for capital financing that center environmental justice
This includes leading with racial equity; acknowledging that financial support for built environment projects moves at the speed of trust; rethinking how community development financing can address the priorities of low-income communities and communities of color; and recognizing flexibility with capital spurs innovation.
EPA should take an expansive view of the definition of "avoiding greenhouse gas emissions"
While traditional renewable energy installations, such as solar, are the obvious choice to avoid greenhouse gas emissions and are beneficial to all communities, other projects can avoid greenhouse gas emissions and reduce air pollution, along with other benefits. These projects include planting tree cover, installing bike lanes, energy efficiency improvements in homes, and other green building improvements. EPA should also consider the scale of its investments beyond isolated project components. Given the rare opportunity to invest in otherwise difficult-to-finance solutions at scale, EPA should prioritize more innovative interventions over low-hanging fruit that might be supported or incentivized by other programs.
EPA should direct funds to organizations that have demonstrated inclusive governance practices with responsiveness and accountability to low-income and disadvantaged communities
This includes Community Development Financial Institutions (CDFIs); community development corporations (CDCs); nonprofit investment funds; local/community foundations with close relationships with community-based organizations (CBOs); credit unions; Minority Depository Institutions (MDIs); public housing authorities; and other nonprofit and/or mission-oriented stewards of land and housing.
EPA must ensure that accountability safeguards are built in along the way to ensure that engagement with CBOs and frontline organizations do not increase co-opting of community voices for non-community and equity benefits
EPA should also define clear impact standards and metrics for awardees to drive significant GHG and air pollution reductions, as well as meaningful energy and environmental justice impacts for low-income and disadvantaged communities. Awardees should prioritize meaningful improvements to the lived experience of marginalized and disadvantaged communities through investments in GHG- and air pollution-reducing projects Equity-focused capital exists along a spectrum and shows up in a variety of forms and practices. As a result, EPA and its recipients would be best served by focusing on their approach and making sure it fits the above criteria, rather than focusing on finding the perfect capital product to advance equity. A critical component of honing that approach involves building trusting relationships with communities. This requires humility, an openness to experimentation, and a willingness to listen. EPA must take full advantage of the opportunity the Fund presents to advance environmental, social, economic, and racial justice.