by Mona Wang and Marissa Ramirez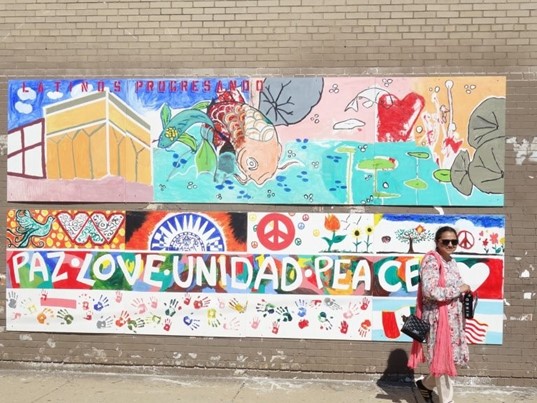 Luis Gutierrez and Adrienne Lange are leaders at Latinos Progresando, an anchor for immigration, culture, and community services on Chicago's southwest side.  This past year, in spite of pandemic challenges, they've been hard at work designing, acquiring, and renovating their new office space in what was previously a library building.  Luis and Adrienne were eager to ensure that the project also included energy, water, health, and resilience upgrades, yet the barriers like time, budget, and access to technical services made assessing the options almost impossible. Ultimately, with a little creativity and collaboration, they became one of the first community organizations to go all-electric in the Chicago area.  
It's critical to find ways to address these barriers, especially as many existing clean energy incentive programs are often directed to wealthier, predominantly white building owners. The climate is getting more extreme, and Chicago is no exception to these impacts. Organizations like Latinos Progresando are one example of community-serving organizations that would benefit most from the cost, health, and energy-savings of climate resilience upgrades. Yet, despite advancements in green technologies, it's still a challenge for many community organizations to access these benefits. With Energy Efficiency Day on October 6th also coinciding with Latinx Heritage month, there is no better time to highlight the benefits of energy efficiency for communities of color.
"As nonprofit developers, specifically first-timers, these types of efficiencies feel out of reach because of financial constraints or gaps in knowledge, even though the will to be energy efficient is totally there. This unique partnership opened the door for us to give "all electric" serious consideration, and eventually for us to pursue that direction–it's going to be amazing to deliver such an asset to the community."

Adrienne Lange, Chief Advancement Officer, Latinos Progresando
The Disproportionate Cost of Climate Resilience for BIPOC Communities
Re-vamping your home or a building with the latest energy-efficient and climate-resilient upgrades can cost a lot of money upfront – to the point where it's simply not affordable, and therefore not possible, even when those improvements can save more money in the long run.
Furthermore, assessing the potential options available to help building developers save energy and determining which may qualify for available subsidies is time-consuming and requires a vast knowledge of all of the available funds. Piecing together funds from multiple sources, or not qualifying for funding sources altogether leads many building developers to skip this step entirely. The upfront costs and technical gaps result in projects that go forward with little to no resilience upgrades, leaving out entire families, small businesses, and neighborhoods, disproportionately in low-income and BIPOC communities. What's more is that this leaves BIPOC communities to take on the additional, compounding costs of climate change through continual building repairs, negative health impacts, and ultimately, displacement. The costs aren't avoided, they're just passed on to residents.
The Role of Capital in Energy Efficiency and Climate Resilience
At SPARCC, we are changing this trajectory by maximizing our capital investment strategy to include energy-efficient and climate-resilient upgrades to protect low-income and Black and Indigenous communities of color from the physical impacts and the disproportionate health and economic burden of climate change.
By bringing together partners across SPARCC's climate and capital programs, paired with the right local technical assistance partners, we saw how we were able to organize energy projects from the bottom up. In the case of Latinos Progresando, partnering with local energy experts, Elevate Energy, to carry out energy assessments and modeling helped overcome the financial constraints to realize energy efficiency and climate resilience opportunities available to them.
With the use of technical assistance and flexible grant funds, Latinos Progresando incorporated a heat pump HVAC system, improved air quality, improved roof insulation, and enhanced window glazing into their new office building design. These mechanical and design improvements allow the building to be all electric, reducing natural gas infrastructure in the immediate term and allowing for greater emission reduction as the grid is increasingly supplied by renewables. The combined impact of these upgrades detailed below are equivalent to the energy savings from planting 1729 tree seedlings grown for 10 years or taking almost 23 cars off the road.
Cost-savings of nearly $20,000 over the lifetime of the appliances – that's over $1,000 in annual savings on utilities bills for Latinos Progresando
8% energy use savings annually, as well as in GHG emissions reductions – with nearly 60 tons of avoided GHG emissions over the lifetime of these appliances
Health improvements through the integration of improved air filters to mitigate the transmission of airborne viruses, like COVID-19, for improved and safer air circulation
Find out more about the energy upgrades in the project factsheet.
Table 1: Energy, Health, Resilience Upgrades for Latinos Progresando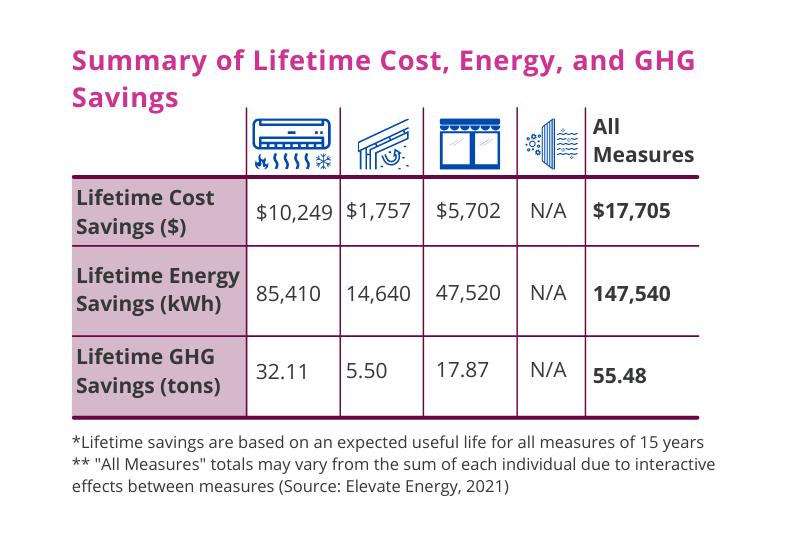 Altogether, these efforts resulted in creating a safer work environment for staff to return to work post-COVID. It also helped Latinos Progresando, already a community leader, become among the early adopters of Chicago in transitioning away from natural gas and other fossil fuel sources by going all-electric, and allows them to source all building energy via solar and other renewable energy sources in the future. With the costs of renewable energy continuing to decrease, going all-electric will only create additional savings on utility costs in the future.
This collaboration between project developer, energy partner, and capital partner (including members of the broader design and development team) demonstrated how our capital strategy could be adapted to become an important and powerful tool for building community resilience. We believe that through this new approach of combining capital with energy efficiency and resilience, low-income and BIPOC communities can be the most resilient and on the vanguard of leading the charge in our transition to a cleaner, more resilient future.
Let's do it differently. We can put energy efficiency and climate resilience within reach
It's going to take collective and organized effort to achieve greater energy and climate justice. We need community development finance institutions (CDFIs), public programs, and philanthropic dollars to collectively deepen their investments on energy efficiency and climate resilience in low-income and BIPOC communities.
More public funds need to be made available with intentional outreach and tailored technical assistance for small businesses and owners, especially in communities of color. CDFIs and other community lenders, like local banks, credit unions, or green banks, need to be able to access capital sources that can deliver grant and other energy investments to communities. Philanthropy plays an important role in closing the energy gap that, as it stands now, will leave out Black and Brown families and businesses from the clean energy transition.
It's time to re-think how we do investments to realize on energy efficiency and climate resilience benefits. Our work with Latinos Progresando is a first of many at SPARCC. It demonstrated not only the possibility of making energy efficiency and climate resilience affordable and accessible for low-income and BIPOC communities, but that the benefits outweigh the costs over time for owners, tenants, community, and the planet.